Board & Management Team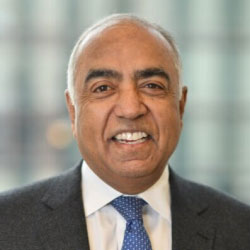 Sanjiv Ahuja
Founder and Chairman
Sanjiv Ahuja is the founder, chairman, and CEO of Tillman Global Holdings (TGH), a leading global digital infrastructure firm, headquartered in New York, NY, that builds and invests in best-in-class businesses.
The company's portfolio encompasses fiber networks, small cells, cell towers, tower network services, indoor DAS, and EV charging. TGH has deployed over $7 billion in capital since inception, developed over 10,000 towers, and operates in over 20 countries.
Prior to founding Tillman Global Holdings in 2014, Ahuja launched several other businesses such as Eaton Towers as one of the pioneers of independent towercos in the African continent, Apollo Towers in Myanmar, and JC Decaux Small Cells.
Ahuja is widely credited for the turnaround of Orange S.A. from 2003-2007. During his tenure as CEO, Orange grew from 48 million subscribers to well over 100 million subscribers.
Ahuja has a degree in electrical engineering from Delhi College of Engineering, Delhi University (now Delhi Technological University), and a master's degree from Columbia University in New York.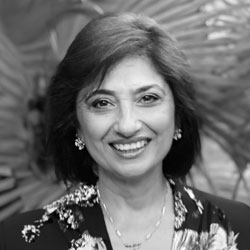 Anju Ahuja
Advisory Board Member
Anju Ahuja is Advisory Board Member of TGH.
Anju is instrumental in the developmental and organizational structures of the business. She continues to bring immense foresight and extensive experience in ensuring the culture of the firm.
Anju holds a BS degree in computer science from North Carolina University.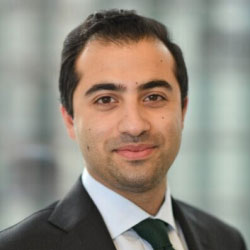 Sachit Ahuja is President of Tillman Global Holdings, responsible for the firm's strategy and investments.
In his role, Sachit is responsible for capital allocation, strategy, and mergers and acquisitions for TGH, which takes an owner-operator approach to building market-leading platforms focused on long-term value creation. Sachit joined TGH in 2015, where he launched its US tower company, Tillman Infrastructure. Sachit is a co-founder of several TGH businesses, including Tillman Infrastructure, Tillman FiberCo, Tillman Networks and TDC.
Previously, Sachit worked at the Raine Group, a merchant bank focused on TMT, Sports and Entertainment. He currently sits on the board of Tillman Global Holdings, Tillman Infrastructure, Tillman FiberCo, TDC, and Tillman Networks. Sachit also serves on the board of the US - India Strategic Partnership Forum and is a Founding Trustee of Plaksha University. Sachit received his MBA from Harvard Business School and holds a Bachelor's degree in Economics with concentrations in Management and Finance from the Wharton School at the University of Pennsylvania.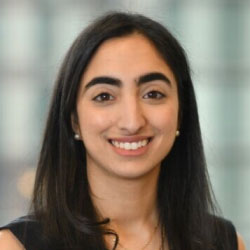 Suruchi Ahuja
Managing Director
Suruchi Ahuja is a Managing Director at Tillman Global. In addition to her role, she is the Chief Executive Officer of Tillman Infrastructure. She is also a board member.
Prior to joining Tillman, Suruchi worked as an investment analyst at MAST Capital Management, focused on the broader telecom and satellite space. Suruchi began her career at Citigroup in the Hedge Fund Services business.
She studied at the School of Engineering and Applied Sciences at Columbia University and completed her MBA at INSEAD.
Mark Wiseman
Vice Chairman, Advisory Board
Mark Wiseman is a Canadian investment manager and business executive and an industry-leading expert in alternatives and active equity investments.
He was a Senior Managing Director at BlackRock, Global Head of Active Equities, Chairman of its alternatives business, and Chairman of BlackRock's Global Investment Committee. He also served on BlackRock's Global Executive Committee. He is currently Chair of the Board of the Alberta Investment Management Corporation.
Prior to joining BlackRock in 2016, Mark was President & CEO of the Canada Pension Plan Investment Board (CPPIB). Mark joined CPPIB in June 2005 as the organization's Senior Vice-President, Private Investments. He was later named Executive Vice-President, Investments, responsible for managing all of the investment activities of CPPIB. He was named President & Chief Executive Officer in 2012.
Prior to joining the CPPIB, Mark was responsible for the private equity fund and co-investment program at the Ontario Teachers' Pension Plan. Previously, Mark was an officer with Harrowston Inc., a publicly traded Canadian merchant bank and a lawyer with Sullivan & Cromwell, practicing in New York and Paris. He also served as a law clerk to Madam Justice Beverley McLachlin at the Supreme Court of Canada.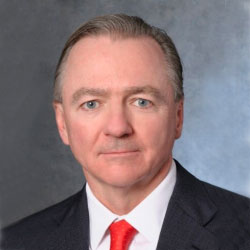 Rich Morrissey
Advisory Board Member
Richard C. Morrissey is former managing partner of the London office for Sullivan & Cromwell LLP. He has extensive experience in cross-border mergers and acquisitions in a wide range of industries and was formerly the head of the Mergers & Acquisitions group in Europe. He is also a former co-head of Sullivan & Cromwell's Private Equity practice. Mr. Morrissey is currently Of Counsel in the Washington DC office of Sullivan & Cromwell LLP.
Mr. Morrissey is consistently recognized as a leading corporate lawyer, most recently for his work as an M&A practitioner in the 2017 edition of Chambers UK, the 2016 editions of Chambers Global and The Legal 500 United Kingdom, the 2015 edition of Chambers Europe, and the 2014 edition of Super Lawyers. He has received recognition on a number of occasions by Euromoney as one of the "world's leading capital markets lawyers" and was cited in Global Counsel 3000 as a recommended lawyer for both capital markets and M&A. He was co-chair of the Practicing Law Institute's Annual Conference on Securities Regulation in Europe for five years. He was an adjunct professor at Georgetown University, McDonough School of Business, where he taught private equity.
He is Chairman of Xenomorph Holdings Ltd., a board member of the Stimson Center, and co-chair of the advisory board of Eco-America. He is also on the advisory board of the DC based charity Fair Chance and a board member of Generation Hope.
Investment Team
Nick Brown
Managing Director
Nick Brown currently serves as Managing Director of Tillman Global Holdings focused on leading new investments and capital markets activities across TMT and energy transition opportunities.
Previously Mr. Brown was EVP, Corporate Finance and Development at Altice USA, where he had numerous roles across the finance department including corporate development and M&A, treasury, investor relations, corporate FP&A, tax, accounting, and risk management functions. Mr. Brown also served on Lightpath's Board of Managers.
Prior to Altice USA, Mr. Brown was Head of Investor Relations for Altice N.V., which he joined from Goldman Sachs' Global Investment Research division where he was an Executive Director covering European Telecoms, Cable, Satellite and Tower companies. He previously worked at Espirito Investment Bank (formerly Execution Noble) as an Equity Research Analyst covering European Telecoms and Media companies.
Mr. Brown has a Masters economics degree from the University of Cambridge.
Michael Berry
Vice President
Michael Berry is a Vice President at Tillman Global Holdings, where he manages new and existing investments and capital markets activities. Prior to joining Tillman in 2019, Mr. Berry worked for Cross Ocean Partners in London, England, as an investment analyst in the European Special Situations business.
Previously, he held investment roles at Berkeley Asset Management in non-investment grade credit strategies and Bank of America Merrill Lynch in Fixed Income. Mr. Berry received a Bachelor of Arts from the University of Pennsylvania.
Mr. Berry serves on the New York Committee of Human Rights Watch, a leading independent organisation dedicated to defending and protecting human rights globally.
Andrew Lake
Vice President
Andrew Lake is a Vice President at Tillman Global Holdings. Prior to joining Tillman in 2022, Mr. Lake worked at DigitalBridge in New York, NY.
Previously, he held finance and investing roles at Ares Management as well as Deutsche Bank. Mr. Lake has a Bachelor of Arts from Columbia University.
Jeffrey Wu is a Vice President at Tillman Global Holdings. Prior to joining Tillman in 2023, Mr. Wu worked for Ridgewood Infrastructure as a Vice President.
Previously, he held investment roles at Riverstone and Credit Suisse. Jeffrey holds a Bachelor's degree in Finance and Business Honors from Texas A&M University and received his MBA from the Tuck School of Business at Dartmouth.
Edi Yaffe
Senior Associate
As a Senior Associate at Tillman Global, Edi is responsible for evaluating potential investment opportunities, managing investment and diligence processes and supporting the firm's portfolio companies.
Prior to joining Tillman in 2020, Edi worked at Greenhill & Co. as a Generalist M&A Investment Banker in the New York office. Edi graduated from the University of Pennsylvania with a BS in Economics from the Wharton School and a BA in International Studies from the College of Arts and Sciences.
As an associate at Tillman Global, Connor is responsible for evaluating potential investment opportunities, managing investment and diligence processes and supporting the firm's portfolio companies.
Prior to joining Tillman in 2021, Connor worked as an Investment Banker at Guggenheim Securities' New York office, where he focused on M&A within the Technology, Media and Telecommunications sectors.
Mr. Meike holds a Bachelor of Arts in Economics and Chinese from Williams College.
Matt is an Associate at TGH. Prior to joining TGH, Matt worked at Ridgewood Infrastructure and Nuveen Private Infrastructure.
He is a graduate of Hamilton College where he studied Economics and Government.
Operating Team
Maral Nalbandian
Director of Talent
Maral manages the strategy and talent across TGH and its portfolio companies while focusing on culture.
She joined Tillman Infrastructure in 2017 to lead their recruitment efforts.
Prior to joining Tillman, she held various roles in HR specializing in identifying talent.
Ms. Nalbandian holds a Bachelors degree in Economics from Manhattanville College.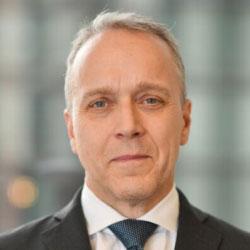 Thomas Jonell
Managing Director, Europe
Thomas Jonell is a Managing Director at Tillman Global where he is actively involved in energy transition and in-building connectivity investments in Europe.
Thomas has over 25 years of experience in telecommunications, with time spent at Veon, Celtel and Ericsson across Europe, Africa and Asia in senior leadership positions.
Thomas holds a certification in electronics and advanced mathematics.
Senior Advisors
Cynthia Gordon
Senior Advisor
Cynthia Gordon is a Board member of Eutelsat and Chairman of a listed Digital Ecommerce company. She has 30 plus years of global experience with major telecom operators, living and working across Western and Eastern Europe, Nordics, Middle East, Africa and Asia with leading operators such as Orange, Tele2, Millicom and Ooredoo.
Most recently as Millicom Africa CEO responsible for £1bn revenues across six countries she transformed strategy, leadership and financial performance resulting in the successful sale of a number of assets. Prior to this at Ooredoo where as Chief Commercial Officer she improved strategy, performance and talent, in operations with $8bn revenues across 17 countries. As Board member and subsequently advisor of Kinnevik AB one of Europe's largest listed digital focused investment company's she gained extensive investment experience. As a Tele2 board member for five years she saw the transformation of the company to a converged operator, focused on core countries with significantly improved financial performance.
Ms Gordon is recognized as a leading global telecom's professional with a particular specialisation in Strategy, Operations and Leadership. She is a Freeman of City of London and is based in London.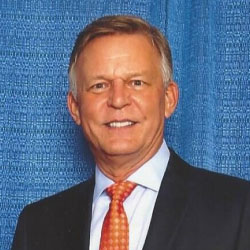 Bill Smith
Senior Advisor, and Executive Chairman, Tillman Networks
Former Interim CEO, PG&E, Retired President-Technology Operations, AT&T
Bill Smith is a retired senior executive with broad experience in operations and technology roles. He most recently served as interim CEO of PG&E Corporation, one of the nation's largest electricity and natural gas utilities, in 2020 after joining the Board of Directors in October 2019. He remains a member of the company's Board of Directors. He also serves as Chairman of Tillman Networks, a privately held provider of services for a range of emerging technology industries, and Zayo Communications, a leading communications and infrastructure provider. Additionally, he serves on Advisory Boards for Blue Ridge Networks, a leader in network security services, and MaxLinear, a provider of high performance integrated circuit and software solutions.
Mr. Smith retired as President, AT&T Technology Operations in September 2016. In that role he was responsible wireline, wireless, and information technology functions including technical space planning, hardware planning, engineering, compute, storage, construction, optimization, customer care, network operations, and integrated IT control functions across the company's global service footprint. These responsibilities included a team of over 100,000 employees. His organization also performed business service and infrastructure operations, planning and engineering. In addition, Bill was responsible for global service delivery and assurance.
Mr. Smith began his career with the former BellSouth Corp. in 1979, and held numerous positions in technology, operations, product development and public policy. He was involved in BellSouth's advanced technology efforts, and was responsible for the company's DSL, Internet and wholesale business units. Also at BellSouth, he served as Chief Technology Officer, where he was responsible for setting the overall technology direction for BellSouth's core infrastructure. In that position, he was responsible for network and operations technology, Internet Protocol applications, next generation strategy, and BellSouth Entertainment, LLC.
A native of Asheville, North Carolina, Mr. Smith graduated with honors from North Carolina State University at Raleigh in 1979. He previously served as Chair Elect for Dallas CASA, a non-profit organization serving the best interest of children in the community, as past Board Chair for the Make-A-Wish Foundation of Georgia and Alabama, and the Atlanta Area Council of the Boy Scouts of America.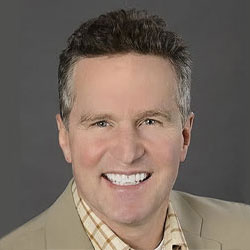 William W. Hague
Senior Advisor
William Hague is the Vice Chairman of Tillman Infrastructure, LLC ("TI"). TI is a successful US based tower company that has been the country's most prolific tower construction company from 2018 thru 2021. With over 1,500 towers, TI is the second largest private tower company in the country under Hague's guidance. TI has seen dramatic improvement in all financial metrics, including revenue, tower cash flow and expense management. TI has unmatched relationships with the country's five major operators and has grown to a market value exceeding $2B.
Hague's other corporate successes include leading AT&T's Global Access Management team, which oversaw the wholesale business for AT&T's voice, wireline, and wireless access with carriers in the USA and around the globe. The business focused on AT&T's $10B annual global trade portfolio. Hague also managed AT&T Mobility's wireless Mergers and Acquisitions during a time of unprecedented growth (1995 to 2002), which included a $10B investment from DoCoMo and multi-billion- dollar wireless market acquisitions.
Prior to his work with AT&T, Hague was one of the founders in Western Wireless, a rural wireless startup in the western United States. During his tenure, the company grew from 10 employees to over 1,000, and became one of the most successful rural wireless players in America. Hague began his career as a partner at the Stokes and Lawrence law firm after clerking in the United States Federal District court.
Hague has served on several public boards, including Triton PCS, Inc., and Telecorp PCS, Inc. He also served on the board of the GSMA, one of the world's largest international trade organizations. Hague worked as the Deputy Chairman and as the Chairman of the Finance Committee. In addition, Hague was the Chairman of the GSM Ltd, a subsidiary company that managed all trade shows for GSMA. Under his guidance, the international show in Barcelona grew from 27,000 attendees in 2012 to 105,000 attendees in 2016.
Mr. Hague has a J.D. from University of Washington Law School, where he was a member of the Order of the Coif, a Masters in Health Administration from the University of Washington School of Public Health, and a Bachelor of Arts/History from the University of Colorado, where he graduated Phi Beta Kappa and Magna Cum Laude.
Roy Chestnutt
Senior Advisor
Roy Chestnutt has 30+ years of experience advising and leading corporate strategies and operations for telecommunication companies globally.
During his career, Mr. Chestnutt served as Executive Vice President and Chief Strategy Officer at Verizon, where he was responsible for the development and implementation of the company's business development, joint ventures, strategic investments, acquisitions and divestitures.
He has also held operational roles with Motorola Networks, Grande Communications and Sprint-Nextel, and sits on the board of Saudi Telecom, Telstra and Digital Turbine.
As a member of the Advisory Board of Tillman Global Holdings, he advises the firm on investment opportunities.
Mr. Chestnutt is a graduate of San Jose State University, and holds an MBA from University of San Francisco.